One Platform - Three Products
DIFFERENT VERSIONS TAILORED TO SPECIFIC CLIENTS NEEDS
Theft of any kind can be devastating and having the right insurance coverage is crucial to cover the loss
Comadso's insurance comparison tool is based on a Software as a Service (SaaS) technology approach, where access to our platform and applications is delivered over the Internet – as a service using licenses for individual users.
Consequently, any insurance company can implement and use our comparison tool without having to buy, install, maintain or update any hardware or software. Comadso will manage and ensure access to the application, including security, availability, and performance.
"We offer three different solutions tailored to specific customer needs".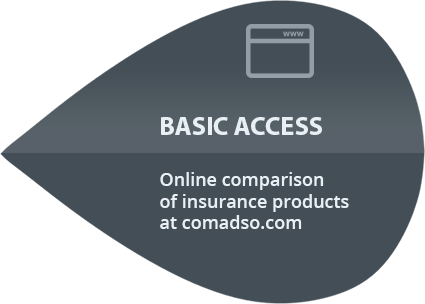 A web-based SaaS solution that offers clients direct and 24/7 online access to our comparison tool at comadso.com.
Seamless integration of Comadso's software solution into the client's own sales tool.
Comadso's comparison tool integrated directly into the client's own website.
Facts about our comparison tool
Provides a clear and powerful overview of product advantages and disadvantages, i.e. coverage and exclusions, between different insurance companies.
Includes the following core product areas – with country variations: Private, Commercial, Life and Health
Always Updated – daily updated database including +100,000 pages of terms and conditions from +270 insurance companies across Europe
Accessible 24/7 from multiple platforms. Delivered over the Internet so that users can access the applications from any Internet-enabled device and location
Highly scalable – giving insurance companies the option to access more, or fewer, services or features on-demand

Can easily and seamlessly be configured to address specific client needs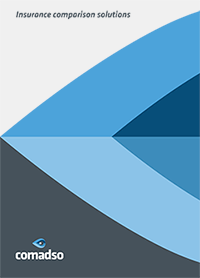 Read more about our solutions
We also offer various professional services supporting our software solutions.
Training insurance people in how to effectively use our system including class sessions (face-to-face meetings), webinars etc.

Development of Terms and Conditions
Assisting insurance companies in preparing high-quality and market conforming Terms & Conditions.
Product Development including new product launches
Collaborating with insurance companies and providing expert advice for example regarding development and testing of new insurance products before market introduction.
Market and industry trends
Accessible 24/7 from multiple platforms. Delivered over the Internet so that users can access the applications from any Internet-enabled device and location
Comadso has more than 30 clients and thousands of users in several different European countries.
Our cloud-based comparison tool includes product information from insurers across Denmark,
Sweden, Norway, Poland, The Netherlands, Czech Republic, Spain, and Turkey.
Information in our comparison tool is updated daily to ensure that clients and users are notified immediately, when an insurance company introduces changes to its terms and conditions.
The transparency and precision we provide can add value and improve business results for insurance companies in several ways.
First and foremost, our solutions can be a highly effective tool to support insurance agents, call centres, brokers, partners, banks etc. in the direct sales activities including e.g. attracting new customers and/or retaining existing customers. By using Comadso, the customer dialogue can be shifted away from focusing mainly on price to focus more on quality, i.e. areas of interests that truly matters and have high importance for the individual customer.
Comadso's comparison tool is also valuable and effective for insurance personnel working e.g. within Product or Business Development. By using Comadso and having access to our international market database such employees and functions may save significant time and costs, e.g. with respect to analysing market trends and competitors, when developing and introducing new products.
Finally, insurance companies can benefit from our solutions in developing and strengthening online marketing and sales activities. Increasingly, insurance companies are looking for ways to increase their online sales, e.g. by attracting and converting online visitors to actual customers. However, the reality is that it is difficult to target and address individual customer needs.
By seamlessly integrating our comparison tool into the company's website, the insurance company can effectively link individual customer profiles and needs – such as age, children, interests, vacation, and sports – to a specific insurance product and thereby improve customer service and increase sales.